Awards
Bernhard and Kuraishi Awards

Starting in 2013, the biennial Bernhard and Kuraishi awards have been bestowed on a clinician and basic scientist, respectively, who have made significant contributions to our understanding of itch mechanisms and treatment. The Bernhard award is in honor of Jeff Bernhard, a renowned dermatologist, former Editor-in-Chief of the Journal of the American Academy of Dermatology, and author of the first book on itch in 1994, entitled "Itch: mechanisms and management of pruritus". The Kuraishi award honors Yasushi Kuraishi, who at the University of Toyama was the first scientist to use scratching behavior in rodents as an itch model. Dr. Kuraishi has made numerous contributions to our understanding of the pharmacology and physiology of acute and chronic itch.

Past awardees are:
2013 (Boston): Bernhard lecture - Gil Yosipovitch; Kuraishi lecture - Earl Carstens
2015 (Nara): Bernhard lecture - Sonja Staender; Kuraishi lecture - Kenji Takamori
2017 (Wroclaw): Bernhard lecture - Jacek Szepietowski; Kuraishi lecture - Martin Schmelz
2019 (Sydney): Bernhard lecture - Elke Weisshaar; Kuraishi lecture - Robert LaMotte
2021 (virtual): Bernhard lecture - Alan Fleischer; Kuraishi lecture - Hiroyuki Murota

Hermann Handwerker Prize

Beiersdorf offered, for the period of four years, a "Hermann Handwerker Prize for young researchers" (up to 35 years) for the best poster presentation at the ISFI meetings (2000,- $).

WCI 2019, Hermann Handwerker Prize winner 2019

Tayler D. Sheahan, Pittsburgh Center for Pain Research and Department of Neurobiology, University of Pittsburgh, PA, USA
Title of presentation: Dissecting the role of neurokinin-1 receptor spinal neurons in itch

WCI 2017, Hermann Handwerker Prize winner 2017

Taylor Follansbee, Department of Neurobiology, Physiology and Behavior, University of California, Davis CA, USA
Title of presentation: Effects of itch and pain stimuli on rostral ventromedial medullary ON- and OFF cells

WCI 2015, Hermann Handwerker Prize winner 2015:

Ms Miho SHIRATORI-HAYASHI (PP11)
Department of Life Innovation, Graduate school of Pharmaceutical Sciences, Kyushu Universtity, Fukuoka, Japan.
Poster-Title: "Astrocytic lipocalin-2 in the spinal dorsal horn is required for chronic itch".

During the 6th World Congress on Itch in Brest in September 2011, the Hermann Handwerder Prize was granted to

Hannah R. Moser, Mineapolis, USA: "Pruritic responses in rat trigeminothalamic tract neurons: evidence against an itch-specific pathway"

Hermann Handwerker Prize: Alexandru Dragos Petru Papoiu,
Wake Forest University Health Sciences, USA: A tale of two itches: Common features and notable differences in brain activation revealed in a comparative fMRI study of cowhage and histamine induced itch.

The 2007 award was granted to Steve Davidson for his work on itch and the neural mechanisms underlying the effects on scratching. Please read more about his work here.



Travel grants and poster prizes

WCI 2019 Sydney, Australia

WCI travel grant winners 2019 (1500 Dollars each)

Radomir Reszke, Poland
Małgorzata Ponikowska, Poland
Manuel P. Pereira, Germany
Xiaojun Chen, China
Wen-Zhen Chen, China
Huasheng Yu, China
Stefanie H. Meeuwis, The Netherlands
Behrang Sharif, Canada
Tayler D. Sheahan, USA
Justyna Szczęch, Poland
Matthew J. Verheyden, Australia
Nivanthika Wimalasena, USA
Taylor Follansbee, USA
Maria Victoria Rosso, Argentina
Helen Kühn, Germany
Joseph S. Blythe, The Netherlands
Ophélie Pierre, France
LingLing Weng, The Netherlands
Tiphaine Voisin, USA
Miriam Düll, Germany
Leigh Nattkemper, USA
Jordan Rosen, USA
Shuai Xu, USA
Kira Süßmuth, Germany

WCI 2017 Wrocław, Poland

WCI travel grant winners 2017 (1000 Dollars each)

Taylor Follansbee, USA
Leigh Nattkemper, USA
Shawn Kwatra, USA
Carolyn Walsh, USA
Behrang Sharif, Canada
Amagi Yosuke, Japan
Eriko Komiya-Suyama, Japan
Kenshiro Matsuada, Japan
Svetlana Bobko, Russian Federation
Kilian L'Herondelle, France
Danielle Bartels, Netherlands
Michellie Young, UK
Manuel Fernandes Lobo Perreira, Germany
Natalie Plewig, Germany
Margareta Düll, Germany
Caroline Fischer, Germany
Tizita Kidane, Ethiopia
Afshari Khashajar, Iran
Leo Odongo, Uganda
Ravi Chandra Kopparaju, Taiwan

500 Euro travel grant winners 2017

Kristen Sanders, USA
Nazgol Sadat Haddadi, Iran
Tudor Selescu, Romania
Stephanie Kiupel, Germany
Katarzyna Grochulska, Germany
Stephanie Meeuwis, Netherlands

WCI 2015 Nara, Japan

IFSI travel grant winners:

Hjaltje H. Andersen, Denmark: "Stimulus-response evaluation of the antipruritic effect of homotopic, monophasic cold and TRP-agonist counter-stimulation of histamine-induced itch in healthy volunteers"

Emilie Brenaut, France: "Pruritus: an underrecognized symptom of small-fiber neuropathies"

Aleksandra Wieczorek, Poland: "Expression of opioid receptors in the skin of patients with uremic pruritus"

Kinan Hayani, Germany, "Syria: Chronic itch in hemodialysis patients: cutaneous manifestations and provision of care according to GEHIS (German Epidemiological Hemodialysis-Itch Study)"

Antoinette Van Laarhoven, Netherlands: "Psychophysiological processing of itch in patients with persistent post-burn itch"


Grant winners chosen from local organizers are follows:
Takeshi Morita
, Berkley, USA
Karoline Medrek
, Wroclaw, Poland
WCI Brest 2011

During the 6th World Congress on Itch in Brest in September 2011, further awards have been granted:

Poster Prize

Christina Schut, Giessen, Germany: "Mental itch induction in patients with chronic urticaria"

Travel Grants:

Tasuku Akiyama, Davis, USA: "Warming enhances serotonin-evoked itch via TRPV4"

Ngoc Quan Phan, Münster, Germany: "Skin analysis by 5D intravital multiphoton tomography in patients with atopic dermatitis treated with aprepitant- a case study"

"Developing Country IFSI Travel Grant"
Christian Muteba Baseke, Kinshasa, Congo: "Epidemiology of Scabies To Akram Hospital, About 49 Cases In Kinshasa / DRC"



WCI Tokyo 2009

The following grants and prizes have been assigned:

Travel Grants:

Andreas E. Kremer, University of Amsterdam, Netherlands (Premier): Autotaxin is a potential mediator of cholestatic pruritus.
Ferda Cevikbas, University of California, San Francisco, USA (Premier): IL-31: An important player in the scene of itch.
Adam Reich, Wroclaw Medical University, Poland: Visual analogue scale as a validated assessment of pruritus intensity.
Tasuku Akiyama, University of California Davis, USA: Enhanced scratching in a mouse model of chronic dry skin itch.
Christine Blome, University Clinics of Hamburg, Germany: National epidemiological study in Germany: Pruritus in a cohort of 11,700 employees
Dmitry V. Romanov, Moscow Medical Academy, Russia: The new approach to studying neurophysiological mechanisms of itch: Evoked potentials to electrical and thermal stimulation in patients with atopic dermatitis.
Tobias Lotts, University of Muenster, Germany: Multidimensional database for pruritus patients – Statistical evaluation of clinical characteristics.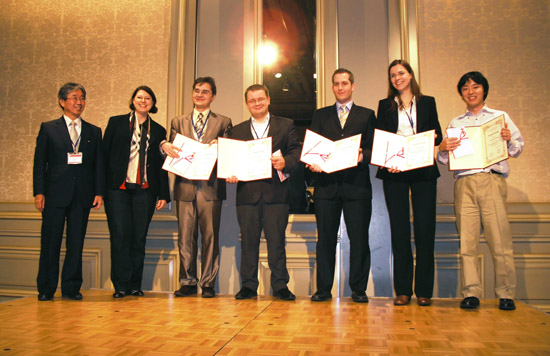 Herman Handwerker Prize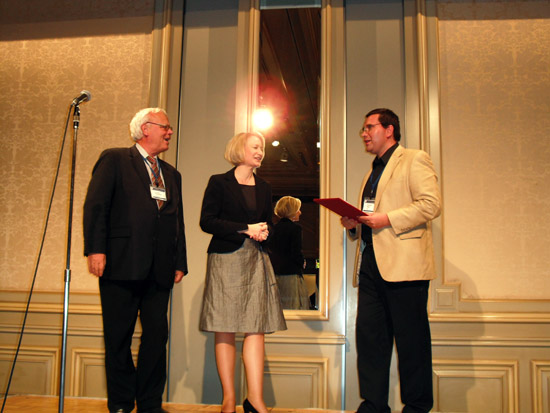 Honorary award for Dr. Takamori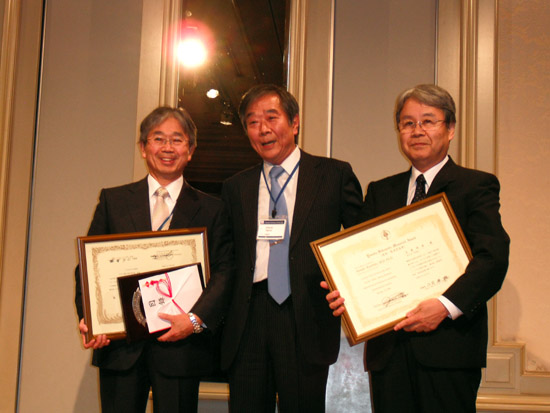 Poster Prizes:

Kenichi Taneda, Juntendo University Urayasu Hospital, Japan: Evaluation of psoriatic itch by epidermal nerve density and opioid receptor levels
Suhandy Tengara, Juntendo University Graduate School of Medicine, Japan: Epidermal nerve density is modulated by keratinocytes-produced anosmin-1.
Ethan A Lerner, Harvard University, USA: Cathepsin S is an endogenous cysteine protease, elicits itch, and signals via protease-activated receptors
Toshiharu Fujiyama, Hamamatsu University School of Medicine, Japan: Stress management alleviates atopic pruritus.

In the future, funds raised from industry and individuals will be utilized for a range of resources, including grants, publications, community outreach and public relations. Currently, we have received support from the following health product companies:

Beiersdorf Inc., Stiefel Corporation, Hermal GmbH and Co

If you are interested in support of our Society, please contact directly: Jacek Szepietowski (jszepiet@derm.am.wroc.pl) and Earl Carstens (eecarstens@ucdavis.edu)